10000/15000b/h Washing-filling-capping 3-IN-1 Machine
The machine mainly used in the beverage filling operation. The three functions of bottle washing, filling and capping ate composed in one body of the machine is used to fill mineral water and purified water in bottles made of polyester and plastics. The machine is conveniently turned to adjust the machine to fill various types of bottles. The filling operation is faster and more stable due to the micro-negative pressure filling operation of the new type is adopted. The output and benefit of the machine is higher than the machines of the new type is adopted. The output and benefit of the machine is higher than the machines of the same specifications. The advanced OMRON programmed controller(PLC) is adapted to control the machine runs automatically, air conveyor system is adopted in bottle entry section and belt conveyor system is adopted in bottle Exit section, which can adjust speed and coordinated with transducer of the main machine to make the output of moving bottle forward steadily and reliably. It is convenient to operate with higher automation due to every parts of the machine is inspected to run with photo electrical detector. The machine is ideal-preferred equipment for beverage makers.


Model

HLD14-12-4

HLD16-16-5

HLD18-18-6

HLD24-24-8

HLD32-32-10

HLD40-40-12

Capacity(500ML)

4000BPH

6000BPH

8000BPH

12000BPH

15000BPH

18000BPH

Washing Heads

14

16

18

24

32

40

Filling Heads

12

16

18

24

32

40

Capping Heads

4

5

6

8

10

12

Suitable Bottle

PET Bottle ,Plastic Bottle

Diameter of bottle

Diameter: 55-110 MM

Height Of Bottle

150-310MM

Suitable Cap

Plastic Screw Cap

Weight

1500kg

2000kg

4000kg

4500kg

6000kg

7800kg

Main Motor Power

1.2kw

1.5kw

3kw

3kw

3kw

5.5kw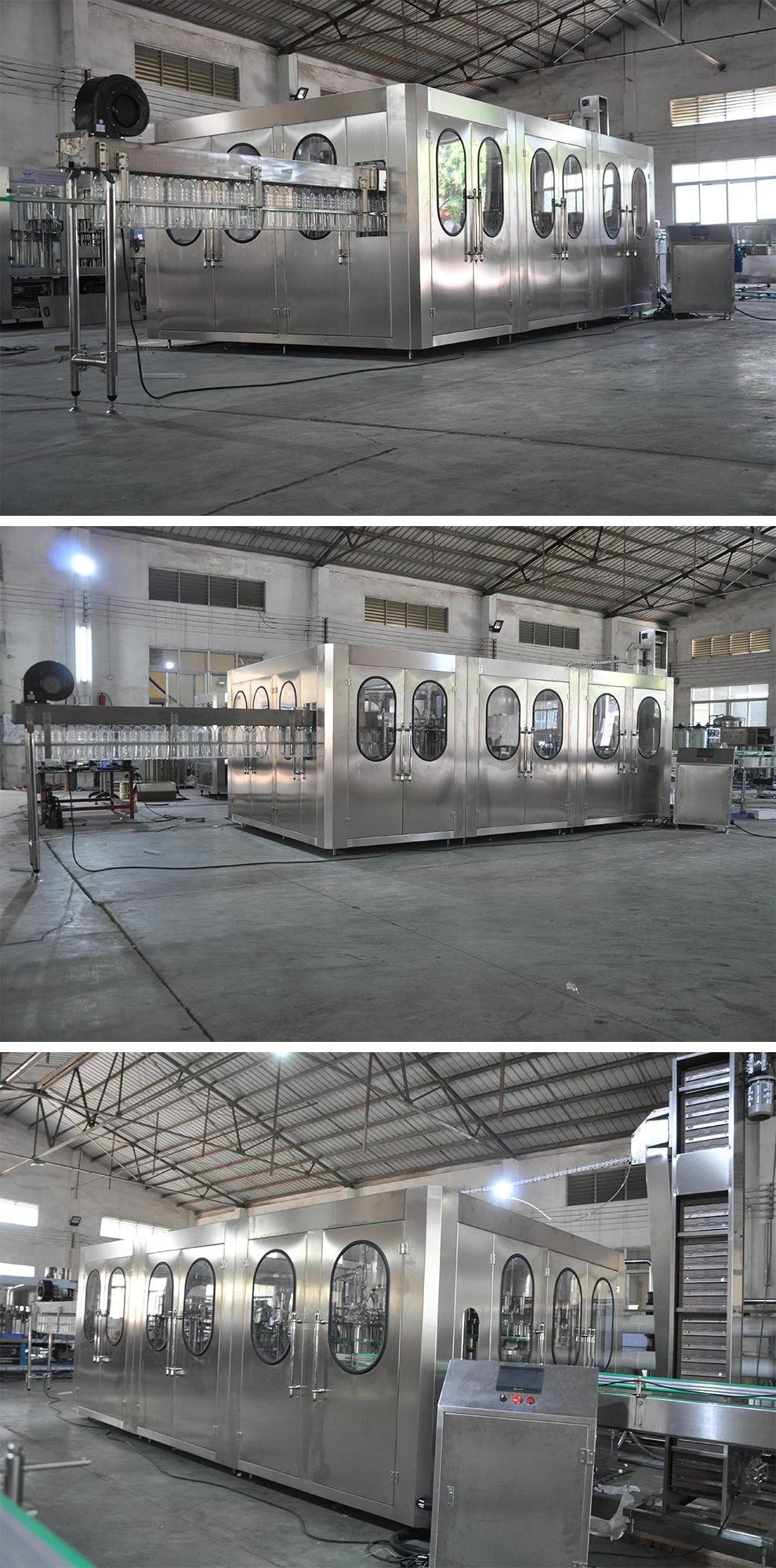 Washing part of Bottled Mineral Water Filling Machine:

All 304 stainless steel rinser heads, water spray style inject design, save water consumption & more clean

304 Stainless steel Gripper with plastic pad, ensure minimal bottle crash during washing

304 stainless steel washing pump

Filling Part of Bottled Mineral water filling machines :

High precision filling nozzle, PLC variable signal control, ensure high filling precision & filling smoothly & steadily,

Filling volume adjustable in fine rank, same liquid level after filling

All 304 stainless steel contact parts & liquid tank, fine polish, no death corner, easy to clean

304 stainless steel filling pump

no bottle no filling

Capping part of Bottled Mineral water filling machine

Place & capping system, electromagnetic capping heads, with burden discharge function, make sure minimum bottle crash during capping

All 304stainless steel construction

No bottle no capping,

Automatic stop when lack of bottle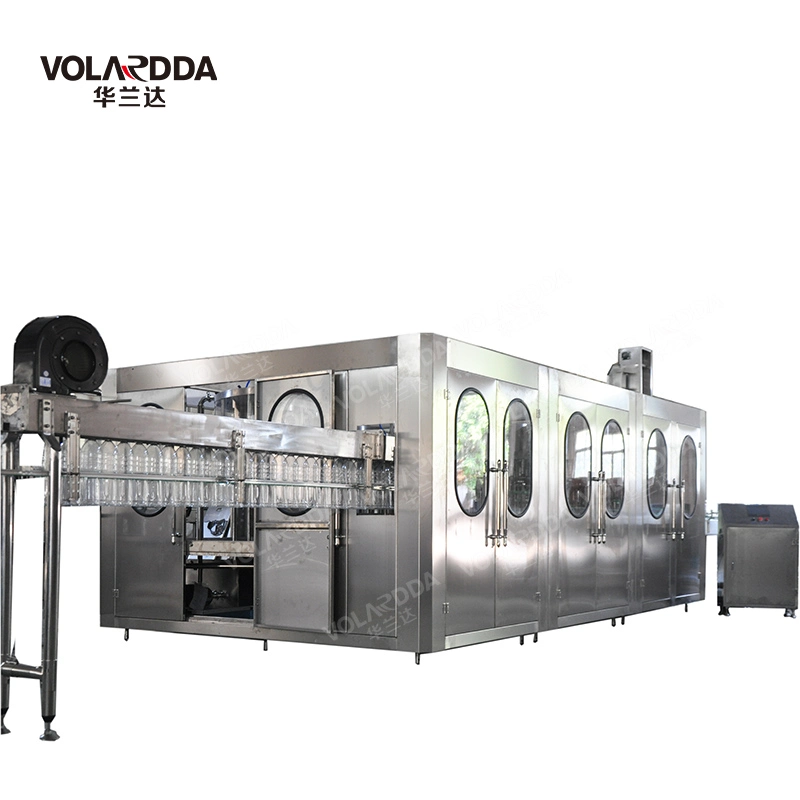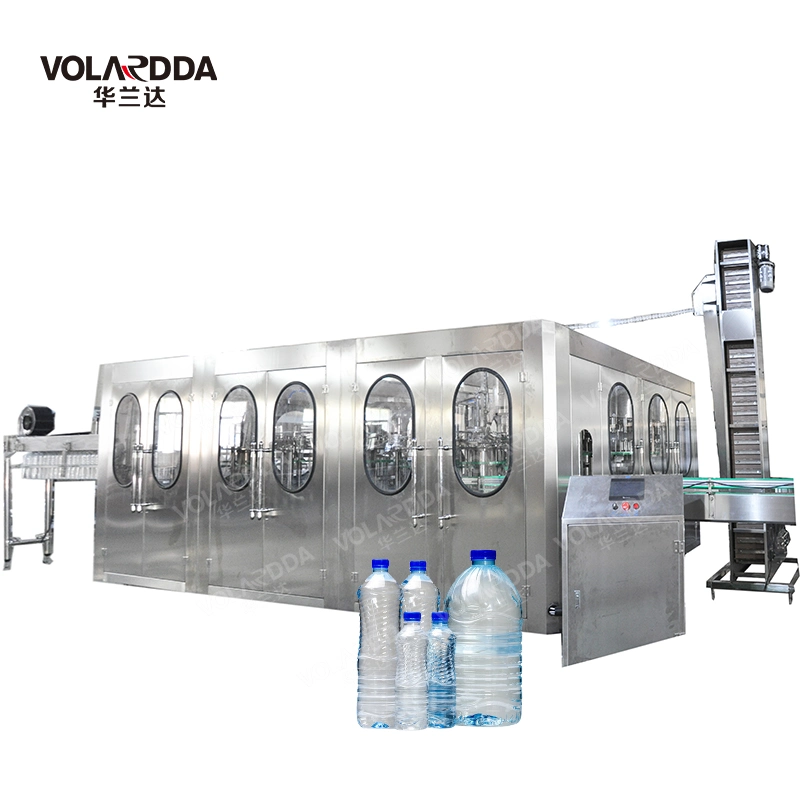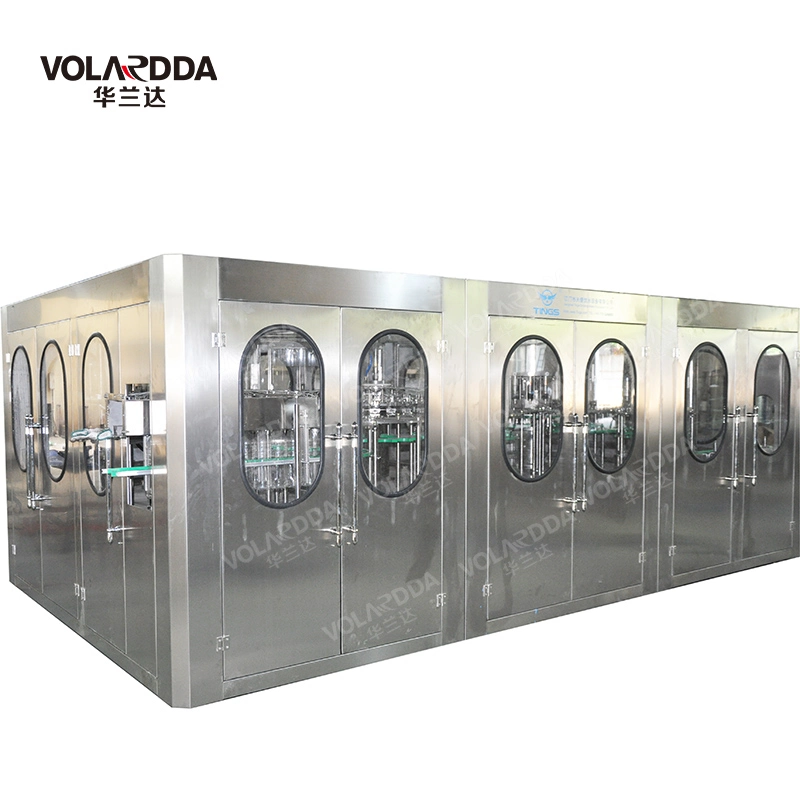 1. Equipped with both H2O2 & UV sterilizing, comply with firm's safety management requirement.
2. The system will finish all the process automatically: feeding, dosing,filling, sealing, date printing and finish product conveying. It has high accurate weighting and high efficiency without broke.
3. With PLC pneumatic control system and quality touch screen to compose the drive control center which maximize the whole machine's control precision, reliability and intelligent level.
4. Use intelligent temperature controller to have accurate temperature, which ensures the artistic and neat seal.
5. The unique mechanical structure can adapt to a variety of packaging materials, which can significantly save the cost of consumables.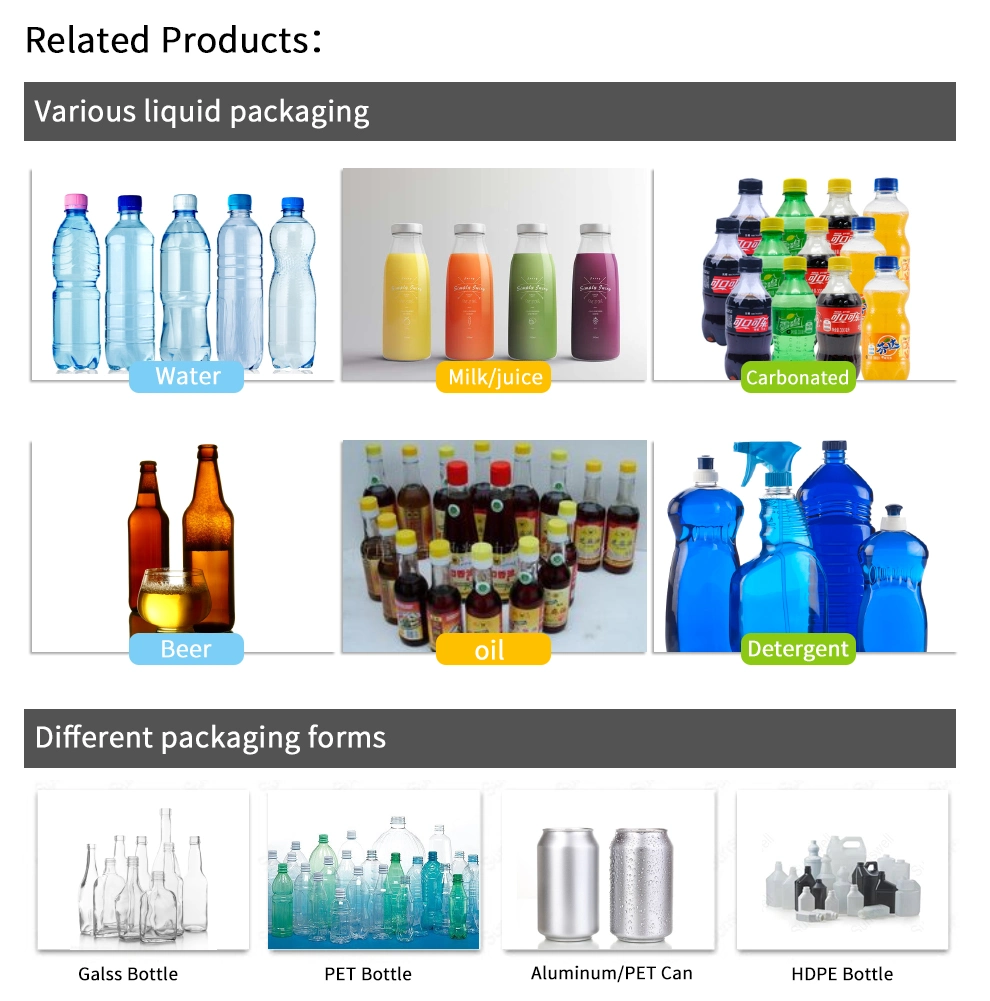 Filling and capping ate composed in one body of the machine is used to fill mineral water and purified water in bottles made of polyester and plastics.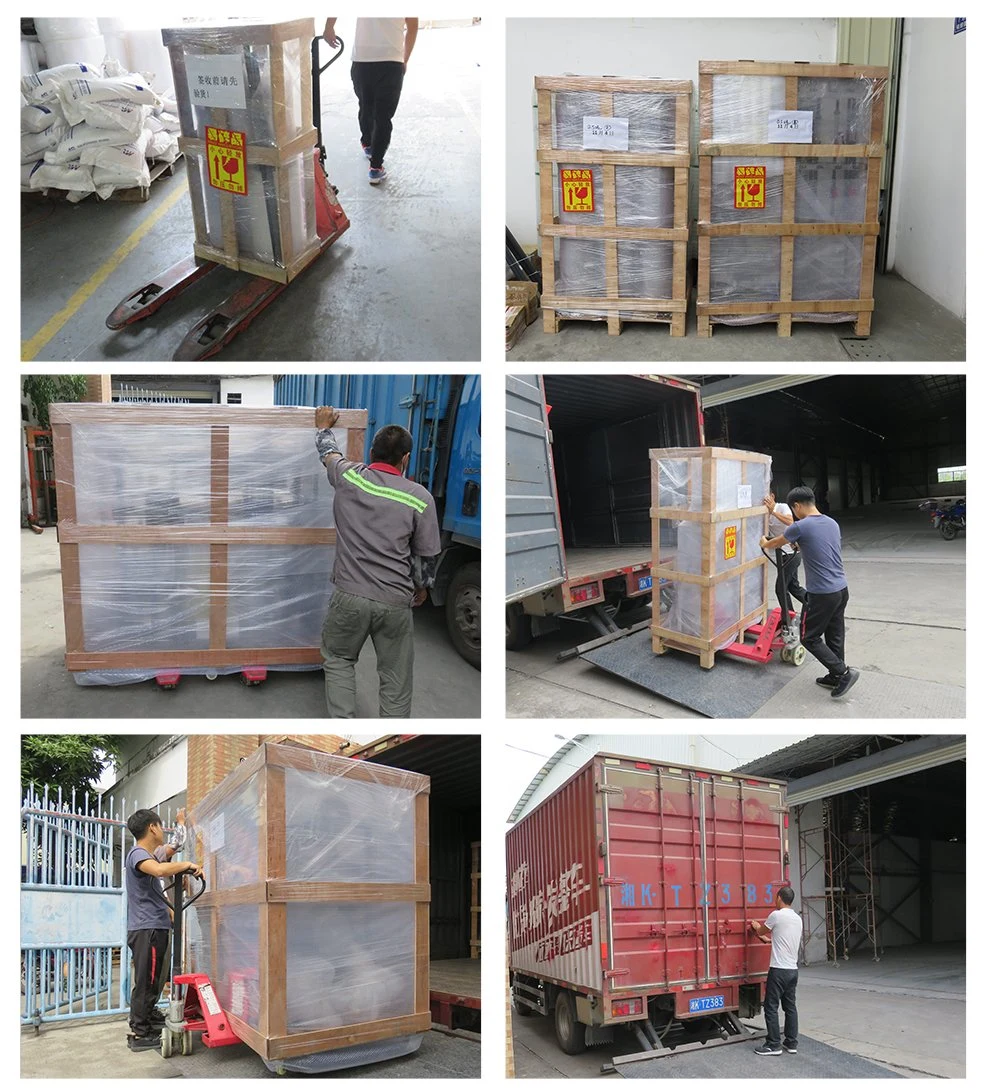 Our packaging is a wooden frame. The packaging is sealed and transported to the port by special vehicles to ensure product safety and quality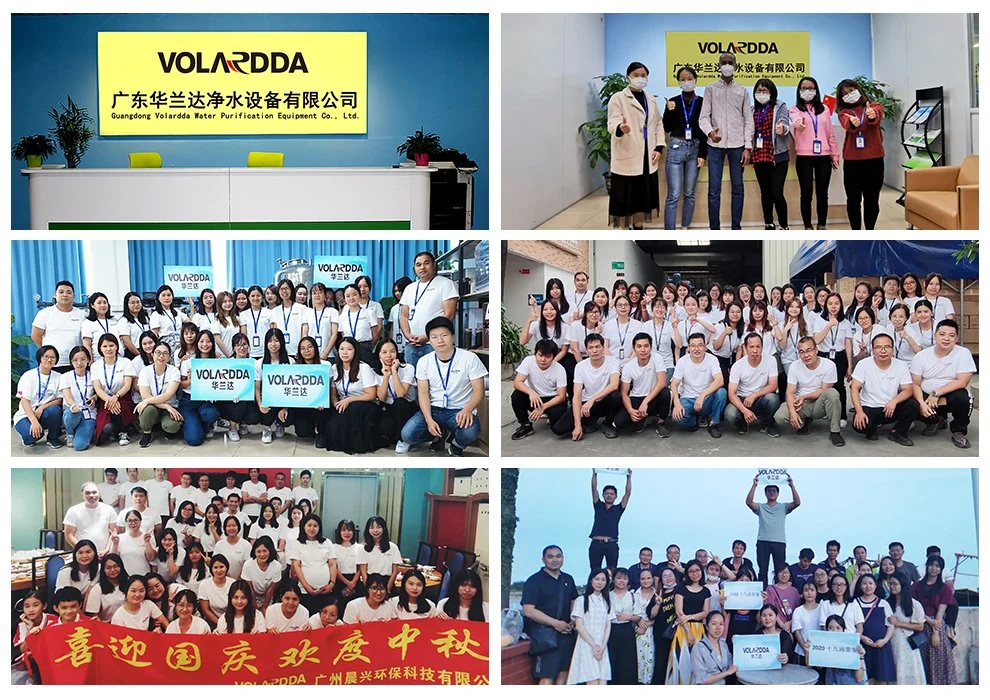 Guangdong Volardda Water Purification Equipment Co., Ltd is located in Guangzhou Nansha Free Trade Zone, and our factory area more than 5,000 square meters. Volardda is a new intelligent direct drinking water equipment technology manufacturing enterprise integrating R&D, design, manufacturing, installation, operation and service.
The main products of our Volardda are: Reverse Osmosis Systems,EDI Systems,Water sterilization products, pure water tank,Drinking Water Filling Machine, Household ro system,Pretreatment Systems, Ultrafiltration Systems, Water Softeners, Water treatment accessories etc. We have provided overall water treatment for more than 1,200 customers solution.
What's more, our products have been exported to Southeast Asia, the Middle East, Africa, America, Australia and many other countries for many years. With profession team, unique design, high-quality products, and perfect after-sales, we can firmly established the Volardda water purification brand !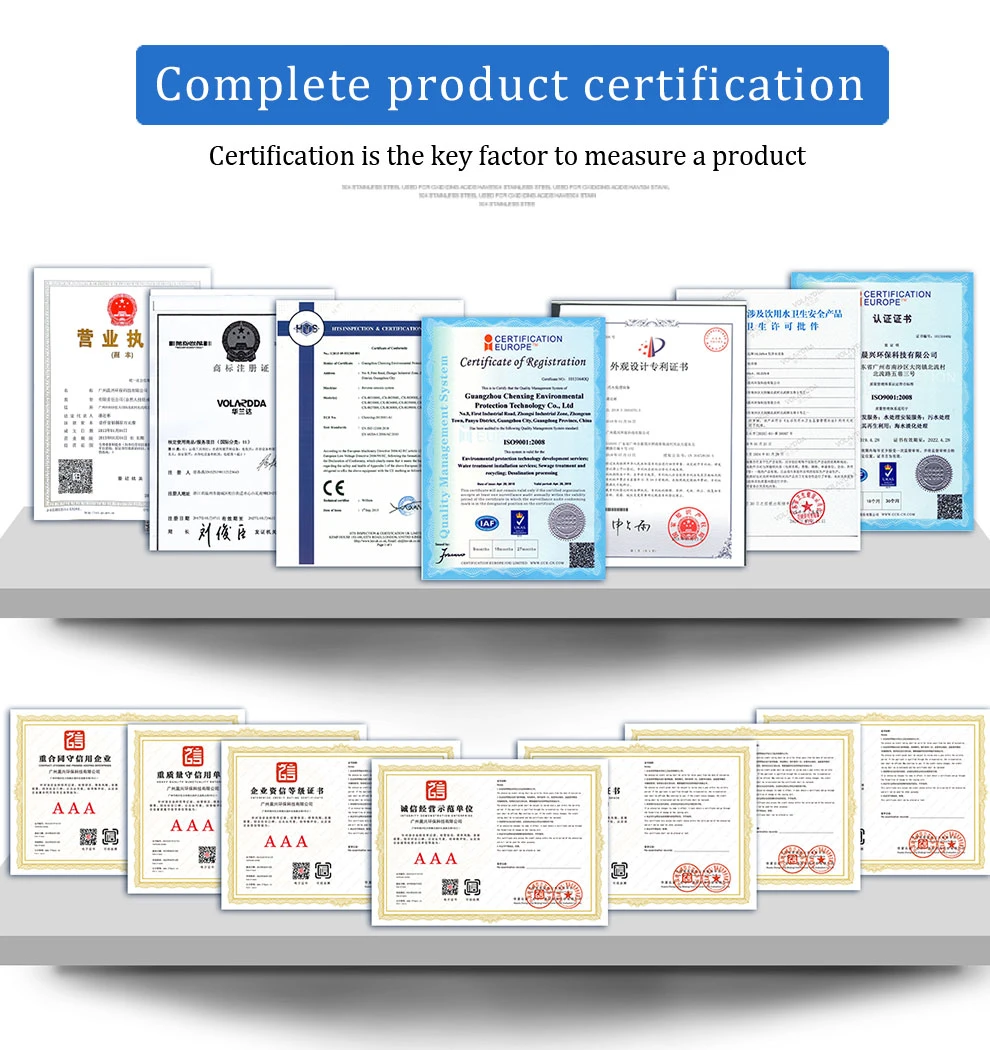 FAQ

Q: What's the information you need to know before order?
A: what's your raw water ?
B: what's the capacity per hour of the equipment ?
C: What's the application of purifier water ?

Q:Which machine should I choose?
A:It depends on your raw water quality and your requirements.


Q: How long is your delivery time?
A: Generally it is 15-30 days, Depends on your project.

Q:How can you control the quality and delivery?
A:Production strictly according to CE / ISO standards.
B:All our machines will be tested before packaging. wooden packaing is strong and safety for long delivery.

Q:What's your warranty?
A:Our warranty is 1 year. But normally, our machine can work 5 years before repair.

Q: How can I pay you?
A: After we confirmed order, I will send you contract sales with our company bank information. You can transfer money to our company bank account by T/T. Or you can place order online.
Want to know more, contact us as soon as possible!