#WaterProductionLine #20LWaterFillingMachine #WaterFillingCappingMachine
#3in1FillingMachine #5GallonWaterBottlingMachine
This 5gallon bottle washing / filling / capping machine is for filling mineral water, distilled water and purified water into barreled/bucket/jar. The barrel water drink filling machine works reliably and efficiently based on the compact structure and high automatic technology. This barrel water drink filling machine is the fully automatic barreled water producing equipment combined with machine, electronic and pneumatic components.
Machine list for ref
Items

Machine description

Qty.

1

De-capper machine

1set

2

Linear type automatic washing machine




(only outside)

1set

3

Automatic washing-filling-capping machine

1set

Uploading & downloading system

1set

Light checker

1set

2m roller conveyor

1set

4

Automatic bottle neck labeling machine
Shrink tunnel for PVC small cover

1suit

5

Cap elevator with hopper and UV sterilizing lamp

1set
Electric configurations
Item
Parts Name
Brand
Brand
1
PLC
SIEMENS
Germany
2
Inverter
3
Touch Screen
4
Switch
5
Contactor
6
Relayer
7
Solenoid Valve
AIRTAC
Taiwan
8
Drive motor
FEITUO
Swiss
9
Reducer
CNP
China
10
Water Pump
SKF
China
11
Main Bearing
AUTONICS
Sweden
12
Sensor
AIRTAC
Korea
13
Air component
ABB
Taiwan
Detailed photos
This filling line specially for 3-5gallons barreled drink water,with type QGF-100,QGF-240,QGF-300,QGF-450,QGF-600,QGF-900,QGF-1200,It intergrates bottle washing,filling and capping into one unit ,In order to achieve the purpose of washing and sterilizing ,The washing machine use multi-washing liquid spray and-thimerosal spray,This thimerosal can be used circularly,The capping machine can cap barrel automatically ,this line equips with water spraying device in order to ensure those caps sterilizer and clean .it also can automatically carry out barrel ,washing,sterilizing ,filling ,capping ,counting and products discharging ,with complete function ,modern design and high degree of automation ,it is a new kind of barreeled water auto-production line ,which intergrates mechanism ,electricity and pneumatics technologies together.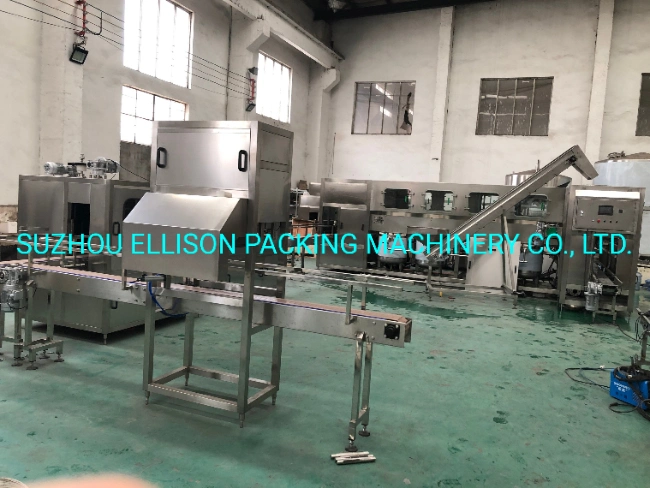 1. It is specially used for filling 3 gallon to 5 gallon) bottled water.
2. It is a good machine line for the all shapes of bottles.
3. The machine is designed for bottles such as PVC. PE. PET etc. It can be used for different shapes of bottles.
4. The machine line with stainless steel rinse nozzles, pressure filling valve, screw capper, hot steam film shrinkage machine top quality line.
5. Filling time is controlled by the PLC.
6. The machine adopts high quality stainless steel frame
7. The machine design appreance is beautiful, easy operation, maintainence and working stable.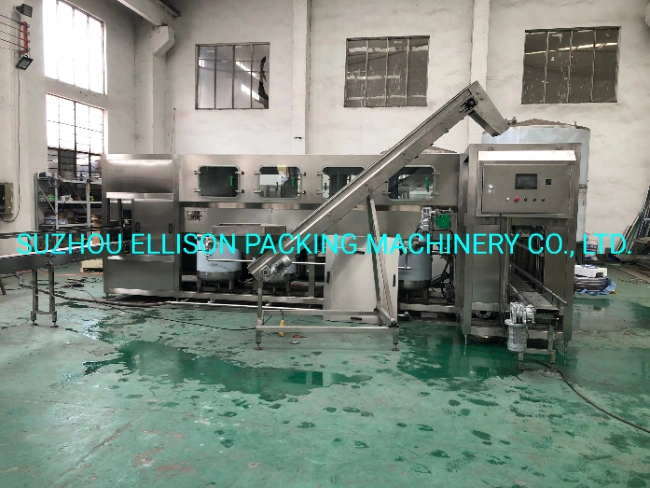 Main features
1, Shape structure adopted concave and convex shape, perfect appearance also reduces the leakage.
2, The thickness of the stainless steel plate which used for 600bph is 3mm.
3, Tank and the heating pipe in tank are removable which become more clean sanitation.
Filling part
1, Uploading and dropping barrels changed from 45 degree to translatory which is more stable.
2, Nozzle can insert into 10-15cm of the barrel in order to rinse little impurities down. Rinsing pump is separately controlled by different magnetic valves. Pump only work when there is barrel on that. It can avoid the mixture of different cleaning fluid.
Capping part
1, Liquid level difference is controlled in 1cm.
2, Machine is equipped with Cap Sterilization system, which is 1.2m. The system make products more clean and safe by using sterilization and finished water.
3, Customers can choose to equip ABB/SEW motor, GRUNDFOS water pump, FESTO pneumatic component.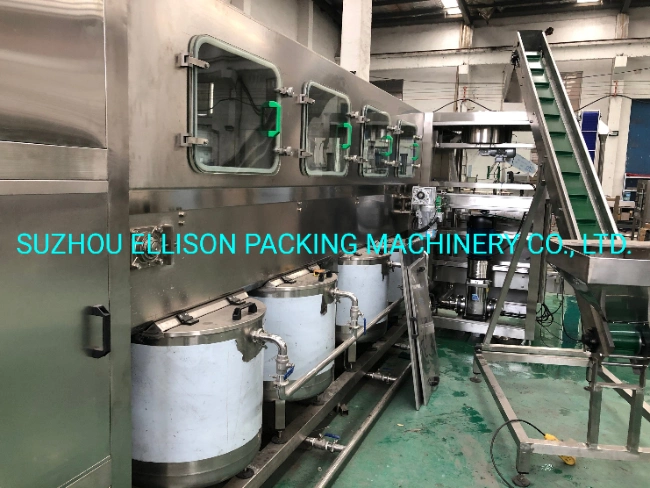 More photos for ref

1, De-capping machine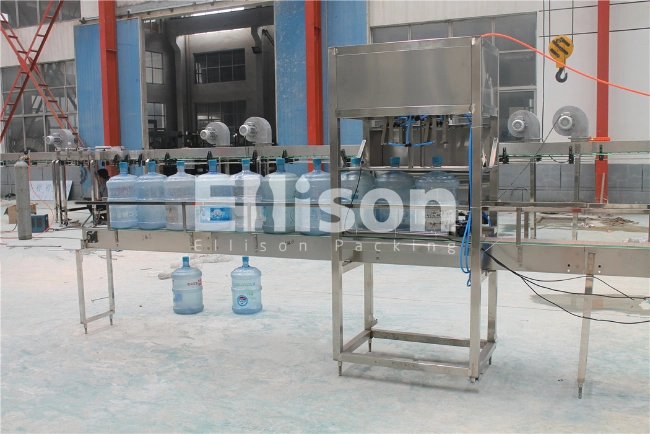 2, Gallon bottle washing machine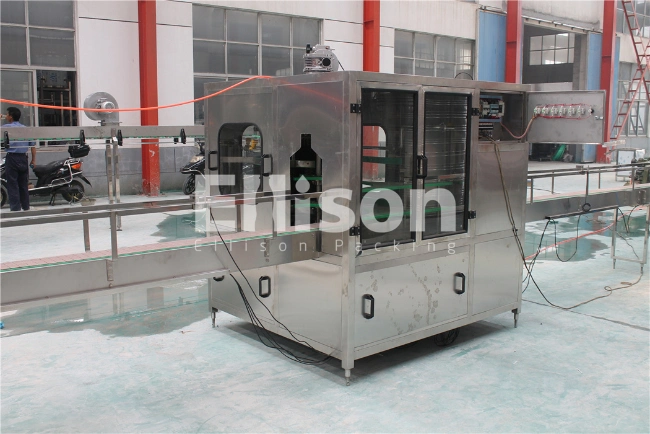 3, Gallon bottle bagging machine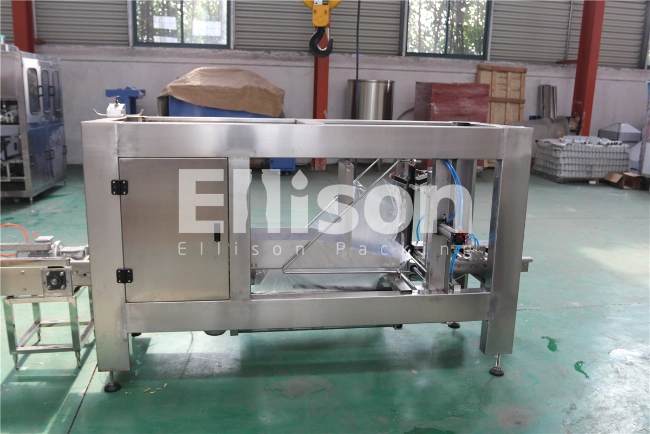 4, Gallon bottle palletizing machine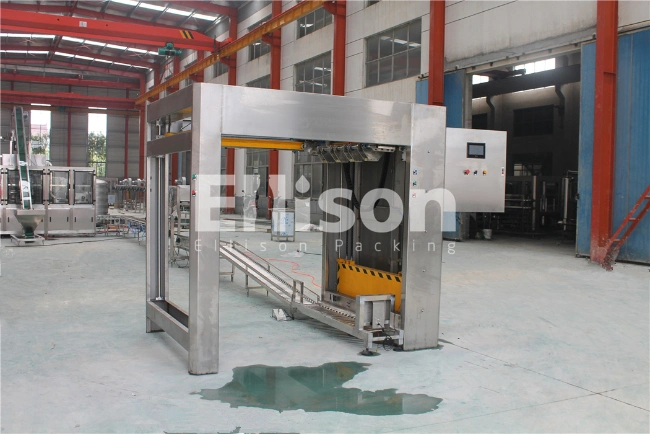 Prodution line in clinet's factoty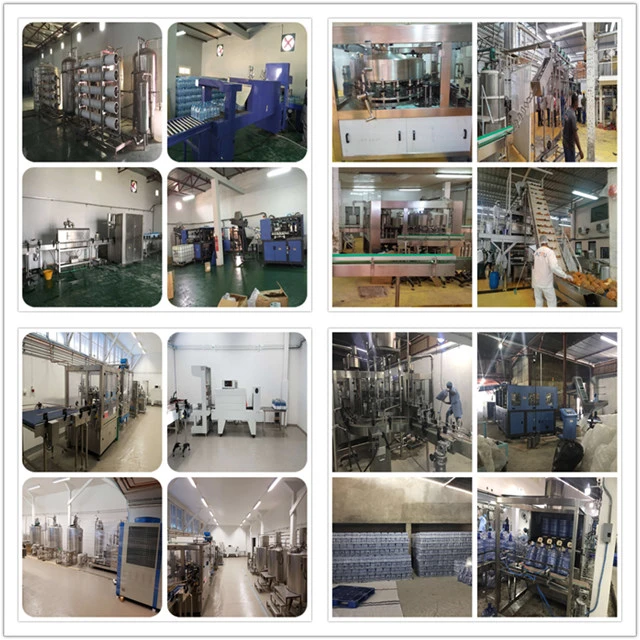 We do more ... ... ...
1) Water treatment equipment---RO purified equipment, UF purified equipment, Sand filter, Carbon filter, Water softner, Sea Water treatment.
2) Filling Machine---3 in 1 Washing filling capping---for your water, carbonated drink, juice, wine, vinegar, milk, tea and so on.
----150 to 2000ml bottle, 3.5-10L,11- 20L bottle (3-6gallon bottle)
---PET bottle, Glass bottle, PP bottle and Can
----Screw cap, Aluminum cap, Grown cap and three (four) twist caps etc.
3) Labeling Machine---Stick label, Shrink sleeve label, Hot melt Opp labels. Wet glue label
4) Printer , Manual code printer , Inkjet printer , Laser printer
5) Packing Machine----Shrink film, Cartons packing machine
6) Bottle Blowing Machine--- for making plastic bottle
7) Injection Molding Machine---for your cap and perform.
8) Subsidiary products for drink production---Bottle Washer, Bottle Capper, Conveyor, Bottle Dryer, Bottle Warmer, Bottle Loading system, Bottle unscrambler, CIP system, Bottle Cooler, Bottle Sterilizer, Blending tank, Storage Tank, Sugar Melting Pot, Syrup Filter Conveyor and so on.
Shipping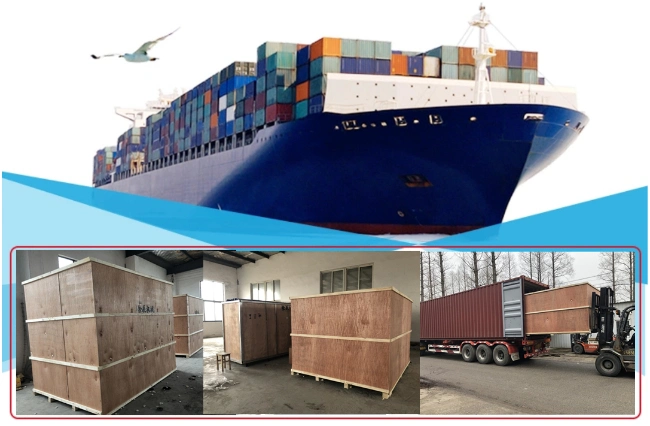 Our Service
The sample service
1. we can send you the video of the running machine.
2. you are always welcome to come to visit our factory, and you may see the operation of the machines here . We will make the arrangement to pick you up when you come .
3. If we get the permission of the customer who has brought the machines from us ,we can tell you their contact information, you can go to visit their factory.
Customized service
1. we can design the machines according your requirements(material ,power,filling type,the kinds of the bottles, and so on).
2. at the same time we will give you our professional suggestion.
After-sales service
1. we will provide the bill of load on time to make sure you can get the machine quickly.
2. when you finish the Preparation conditions ,our engineer will go to your factory for the installation, testing and also training.
3. we provide one year warranty with spare parts free.