Complete Plastic Bottle Pure Water Filling Line Machine
7000-8000BPH @ 500ML
Part 1 Preface
Zhangjiagang RELIABLE Machinery Co. Sells Main Products:
1.Injection molding machine (All Types)2.Bottle blowing machine (Semi-automatic/Automatic)3.Water treatment system (Pure Water/ Mineral Water)4.Filling machine (Water/Juice/Carbonated Drinks/Yogurt/Tea/Milk/Bag/Cup and so on.)5.Labeling machine (Shrinks Sleeve Labeling Machine/Adhesive Stick Labeling Machine/OPP Hot Melt Labeling Machine)6.Date printer (Ink jet Printer/Laser Date Printer)7.PE packing machine (PE Film Shrink Sleeve Package Machine/Carton Package Machine/Half-tray Shrink Wrapping Machine)Besides,I think this information you will be interested in:
Min order: 1 set machine
Payment Terms:30% by T/T ad down payment, 70% by T/T before shipment.
Delivery Time: 30 working days after getting 30% down payment and after confirm preform bottle & cap samples
Installment:If you needed, We will send technicians to the factory after preparation work is completed.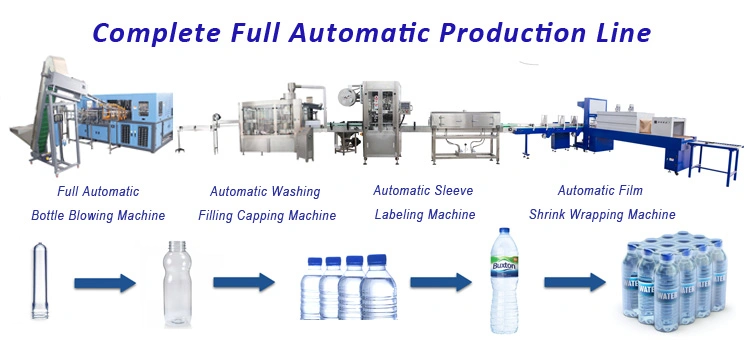 Part 2 Complete Production Line
Flow Chart
:
Bottle Blowing Machine
→
Water Treatment System
→
Water Filling Machine
→
Bottle Labeling Machine
→
Code Printer
→
Bottle Packing Machine
No
Name
Capacity
Qty
1 Automatic Bottle Blow Molding Machine
1
Automatic PET Blowing Machine (4 Cavity)
It is used to blow bottle
4000BPH
1 set
2
Auto loader + manipulator
It is used to conveyor bottle performs
1 set
3
High Pressure Air compressor
It is used to compress the free air into a clean, odorless high-pressure gas
1 set
4
Low Pressure Air compressor
It is used to compress air and it is to take air out
1 set
5
Air Filter
It is used to filter impurities in the air
2 sets
6
Air Cold Dryer
It is used to dry air
1 set
7
Air storage tank
It is used to store high pressure, low pressure, gas, and work with high pressure and low pressure air compressor
1 set
8
Water Chiller
It is used to cool the water quickly and cool the mold and product of the bottle blowing machine
1 set
9
Mould 500ml
1 set



2 Water Treatment System

1
Water resource pump
It is used to pump water,to get the water moving.
5000L/h
1 set
2
Sand filter
It is used to remove flocculated contaminants from the water
5000L/h
1 set
3
Active carbon filter
It is used to absorb heavy metal ions
5000L/h
1 set
4
Precision filter
It is to remove the residue, suspended matter and colloidal substances in the water
5000L/h
1 set
5
Hollow Filter
It is used to remove suspended particles, colloids and microorganisms in water
4000L/h
1 set
6
Ozone generator
It has the function of sterilization
20G/H
1 set
7
Water Tank
It is used to store water
4T/H
1 set
8
Pipe, Valves ,Electric Containers
/
1 set


3 Filling System



1
Automatic washing, filling and capping 3-in-1 machine
It is the part of washing filling and capping.
CGFA18-18-6
7000-8000
BPH@500ml
1 set
Cap loader
It is used to conveyor bottle caps
1 set
Air conveyor
It is used to conveyor empty bottles
2M
1 set
Flat conveyor
It is used to conveyor filled bottles
2M
1 set
2
Light checker
It is used to Check for impurities and suspensions in the bottle
/
1 set


4 Packaging System
1
Code printer
It is used to print the date or brand on the bottle
/
1 set


2
Automatic Labeling Machine
It is used to label bottles
Max12000
b/h
1set
3
PE film Automatic Wrapping Shrink Machine
It is used to pack bottles
10bags/m
1set
Part 3 Service
Before sales:
Please cooperate with us with patience,and provide us all needed informations,these information is very important,because the final solution based on these informations.
During build:
we will update the manufacturing process and status to buyers, and we will invite buyer come to test the machine when it finished in our factory; or we can take the testing video and send to buyer for check .
After sales:
We will send technicians to buys factory for installation, commissioning, and operator training; Our warranty period is 12 months, in this period, we provide free parts for buyer as well as the necessary technical support.Out of warranty period, we offer free technical support, and the factory price of spare parts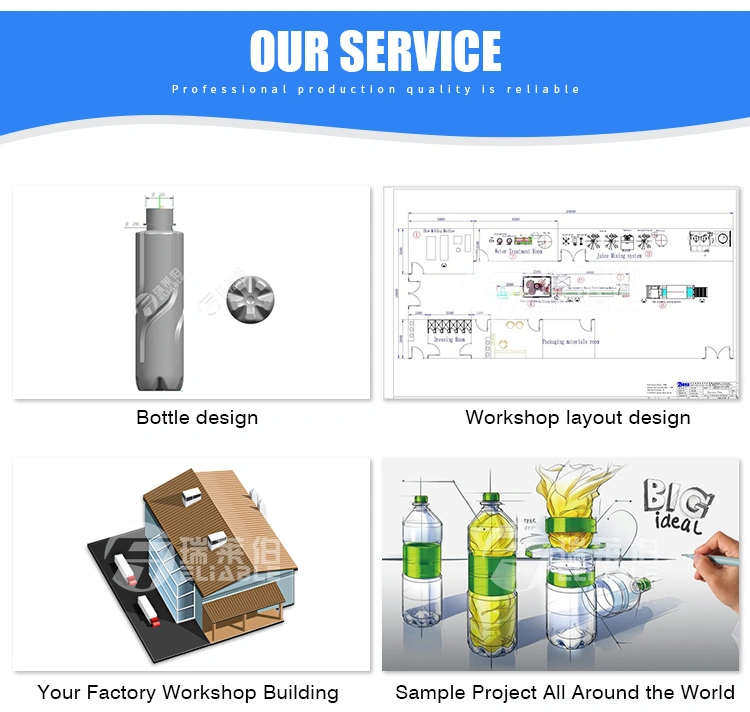 Part 4 FAQ
1. Why price is high?
A: Where do you think is high? Which product you think that our's is more expensive. In current market, there is no one can be cheaper than us on the same level. If you say those small suppliers, indeed, they are much cheaper than us, but the quality is not as same level as us.
2. Why price is low?
A: That is our product key point, product strategy and our selling point. First, we purchase a large number of raw materials at the same time --- reducing the cost. Second, our company running is healthy and reasonable, non-performing asset, high prestige, that's why raw material suppliers give us the most competitive price. At last, we focus on high cost-efficiency route. Our profit is lower, so the price is lower too. If you really want to do business with us, we can discuss price. We believe that our quality and price are very worth for your purchasing.
3. What is your quality assurance?
A: If we don't guarantee our machine quality, how I can sell to you? We seek for long-term business relationship. I can explain two reasons:
(1) Our company core competitiveness is technology research and development ability. We have much high prestige in this field.
(2) Our technical team is professional, can handle all of problems might have happened, or not happened.
4. Well, maybe next time, I have already had corporation supplier.
A: That's great! You can do a comparison between them and our--- quality, material and service. See which one can bring much more profit for you.
Part 5 Company Information
Our company has years of design experience and numbers of proprietary technologies.Reliable has been always committing himself to offer varies stand-alone devices and complete solution to drinks and brewers makers since establishment. No matter whether it is water filling, hot filling,Carbonation filling and aseptic cold filling, or in recent years the development of PET bottles and glass bottles of alcoholic filling line and oil filling.Reliable is able to provide you all kinds of consummate projects and service!