Automatic 2000bph Mineral Water Bottle Filling Line Machine
Capacity: 2000 Bottles Per Hour
Description
1. This drinking water bottle filling machine is automatic washing filling capping three in one machine. It's of many advantages, such as compact structure, perfect control system and easy to be operated. Advanced touch screen and PLC control system makes man-machine communication true.
2. Washing part of drinking water bottle filling machine is mainly composed of washing pump, bottle clamps, water distributor, up turn-plate, guide rail, protection cover, spraying device, defrosting tray, rinse water take and rinse water refluxing tank.
3. Filling Part of drinking water bottle filling machine is mainly composed of filling barrel, filling valves (normal temperature and normal pressure filling), filling pump, bottle hanging device / bottle pedestals, elevating device, liquid indicator, pressure gauge, vacuum pump, etc.
4. Capping part of drinking water bottle filling machine is mainly composed of capping heads, cap loader (separated), cap unscrambler, cap drop rail, pressure regular, cylinder and also we need an air compressor as the auxiliary external equipment.
5. Main electrical components are all imported from world famous brands to guarantee excellent performance of the whole machine.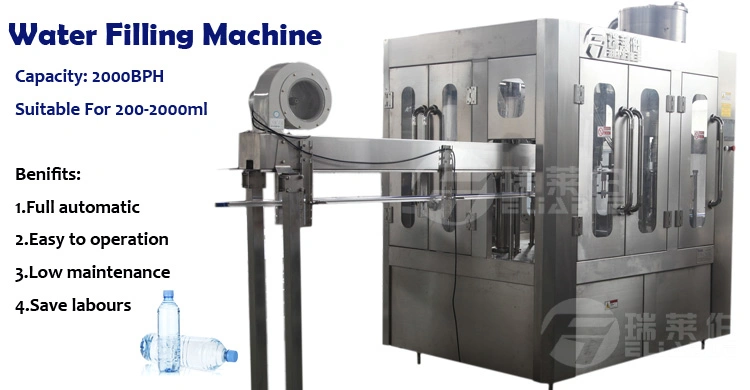 Part List of Filling Machine
| | |
| --- | --- |
| Name | Quantity |
| 1. Stainless Steel Washing Nozzles | 8pcs |
| 2. Stainless Steel Filling Nozzles | 8pcs |
| 3. Stainless Steel Capping Nozzles | 3pcs |
| 4. Empty Bottle Air Conveyor With Fan | 2m for free |
| 5. Filled Bottle Flat Conveyor With Motor | 2m for free |
| 6. Bottle Exchange Part For Different Bottle Size | 3 sets for free |
| 7. Stable Cap Loader | 1set |
| 8. Spare Parts | 1set |
Inside Details
1) Washing Part
:
3 in 1 PET bottle washing filling capping machine adopts water spray to clean the bottle.
It mainly used for beverage, water and other non-gas products. And then the bottle will be sent to the filling machine to fill.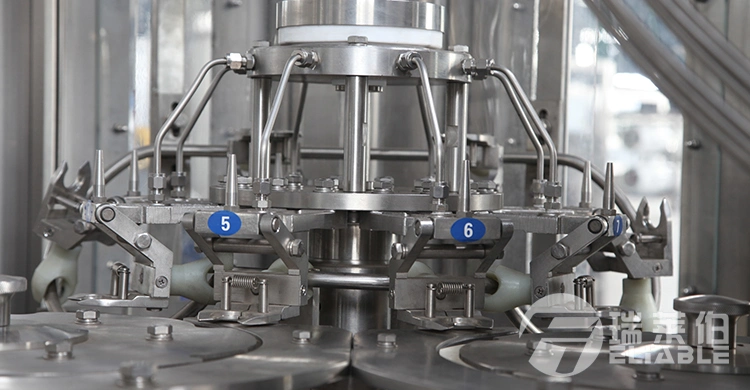 2) Filling Part
:
Fill the product to the wash bottle that was sent before. Filling machine uses gravity filling.
Machine PLC automatic control, fault online display, such as blocking the bottle, missing and so on.
The key components and electrical components of this machine are imported products. MITSUBISHI, OMRON, SCHNEIDER imported components.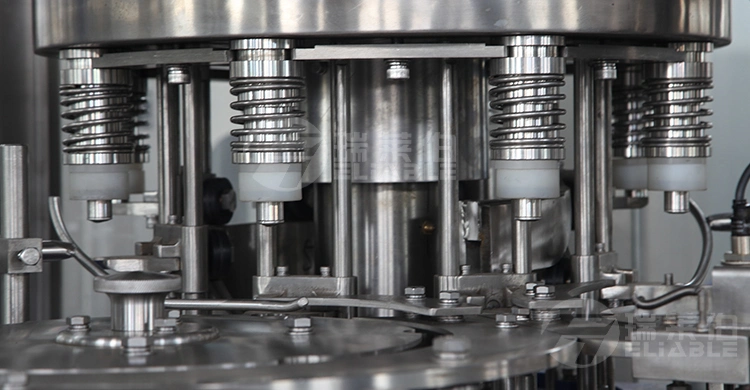 3) Capping Part
:
The screw cap will be screwed onto the bottle of the product that has been filled with the lid and the conveyor chain is sent to the next process.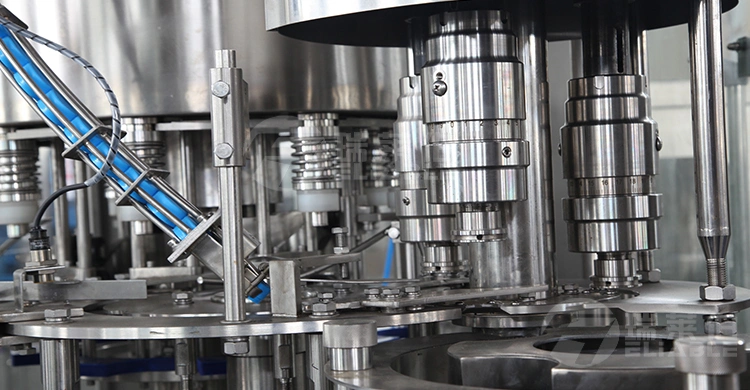 4) Conveyors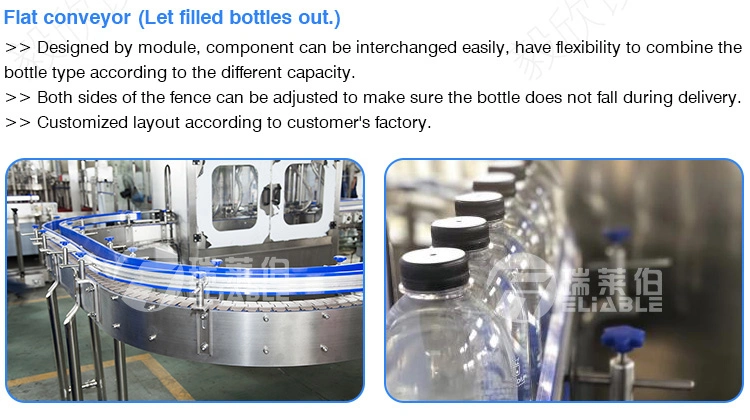 5) Other Components: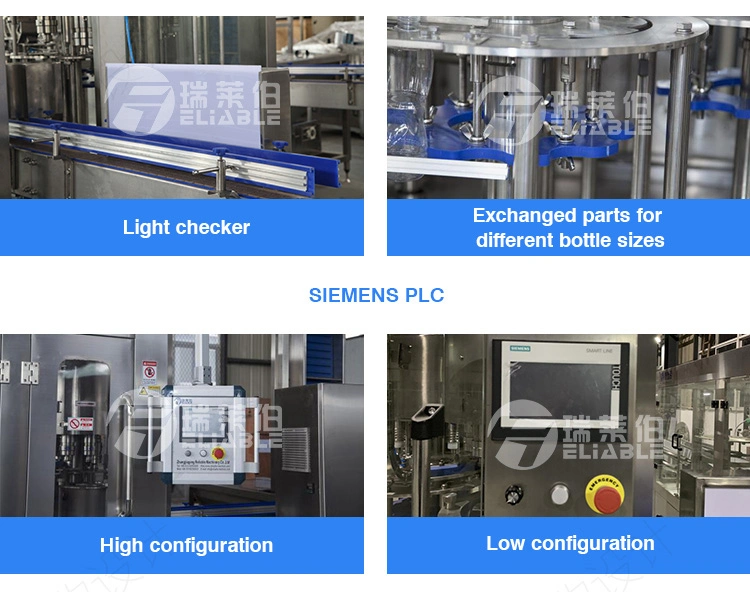 Technical Data
Model

CGF8-8-3
CGF12126
CGF18186
CGF24248
Number of washing, filling and capping heads
8-8-3
12-12-6
18-18-6
24-24-8
Production capacity
(500ml)(B/H)
2000BPH
4000
7000-8000
10000-12000
Suitable bottle specification(mm)
volume=330-2000ml
φ=50-110 H=150~340mm volume=330-2500ml
Washing pressure(kg/cm 2 )
2-3
Motor power(kw)
Main motor1.9kw
Main motor3.5kw
Main motor4.0kw
Main motor4.8kw
Overall dimensions (mm)
1900*1420*2000
2450*1800*2400
2650*1900*2400
2900*2100*2400
Weight (kg)
1500
2500
3500
4500
Model

CGF32328
CGF404010
CGF505012
CGF606015
Number of washing, filling and capping heads
32-32-8
40-40-10
50-50-12
60-60-15
Production capacity
(500ml) (B/H)
12000-15000
15000-18000
20000-22000
22000-25000
Suitable bottle specification(mm)
φ=50-110 H=150~340mm Volume=330-2500ml
Washing pressure(kg/cm 2 )
2-3
Motor power(kw)
Main motor7.6kw
Main motor8.3kw
Main motor 9.6kw
Main motor 15Kw
Overall dimensions (mm)
4100*2000*2400
4550*2650*2400
5450*3210*2400
5500*3510*2400
Weight (kg)
6500
8500
9800
12000
Complete Water Production Line is Available: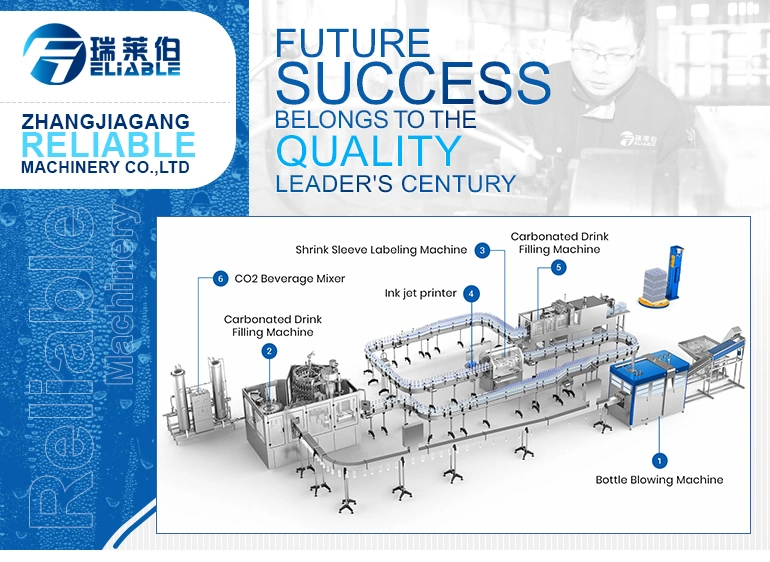 Reliable Service
Inspections
We have our own QC department in our factory to make sure that all our products are in very good quality before ship out to our customers.
The Sample Service
1.We can send you the video of the running machine.
2.You are welcome to come to visit our company,and see the machine running in our factory,we can pick you up from the station near our city.
3.If we get the permission of the customer who has brought the machines from us ,we can tell you their contact information,you can go to visit their factory.
Customized Service
1.We can design the machines according your requirements(material,power,filling type,the kinds of the bottles,and so on),at the same time we will give you our professional suggestion,as you know,we have been in this industry for many years.
2. We can offer some professional suggestion when you begin this project, such as draw the factory layout for you,analyze the source water report.
After-Sales Service
1.We will provide the bill of load on time to make sure you can get the machine quickly.
2.When you finish the Preparation conditions ,our engineer will go to your factory to install the machine ,and give you the operating manual ,and train your employee until they can operate the machine well.
3.We ask feedback from our customer and offer help when the production line have been used for some time!
4.We provide one year warranty with spare parts free.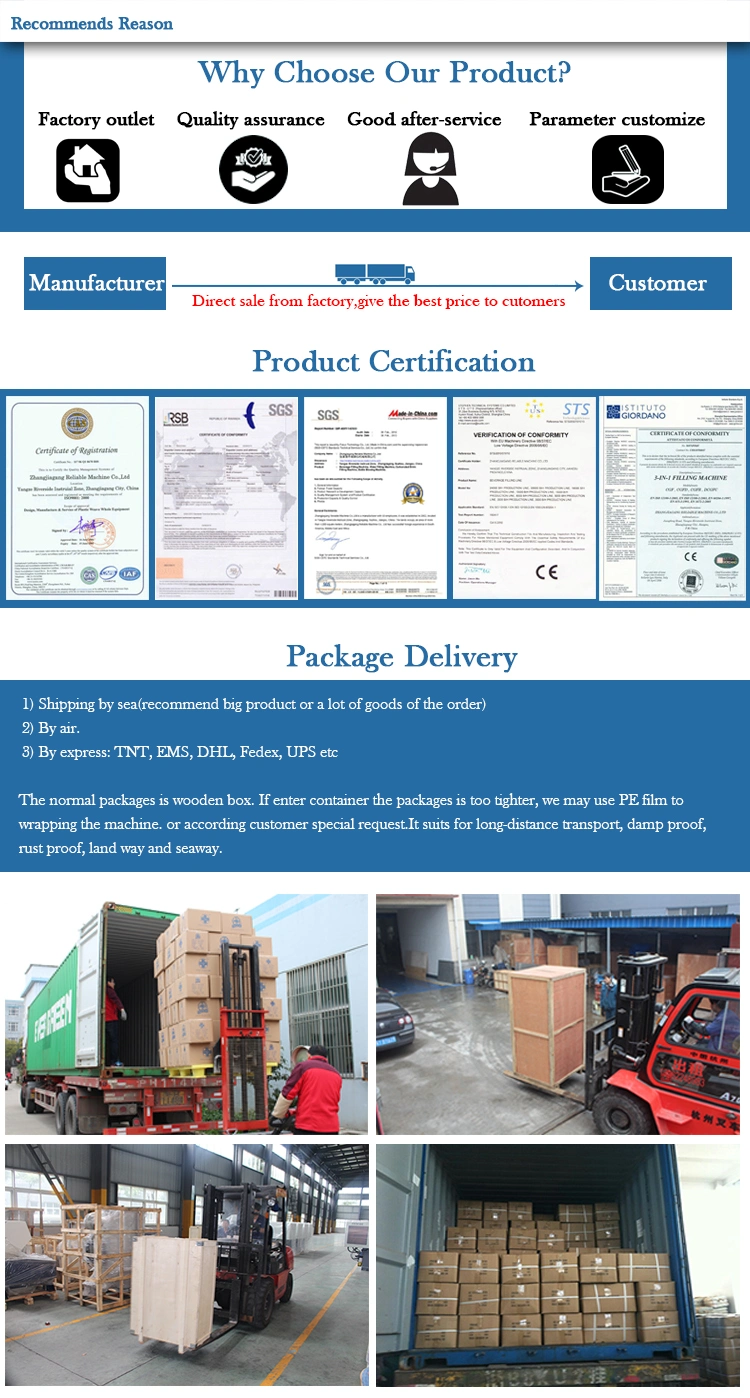 Why choose us?
1. Small profits and quick returns is our business policy, so the drinking water bottle filling machine is worth every cent.
2. We focus on advanced supply chain management, which can ensure the raw materials are with good
quality and competitive price.
3. Workers, engineers and boss of our company have spent more than 20 years in beverage machinery industry,so they have rich experience to provide Turn Key project Service.
4. There are several engineers available to oversea service, the salary per day is cheap. As long as our customers need them, they can leave for your country as soon as possible, our principle to let our production line always runs normally.
5. We can update the production status for our customer once per week, our target is to let our customer receive good service
Our Factory Showroom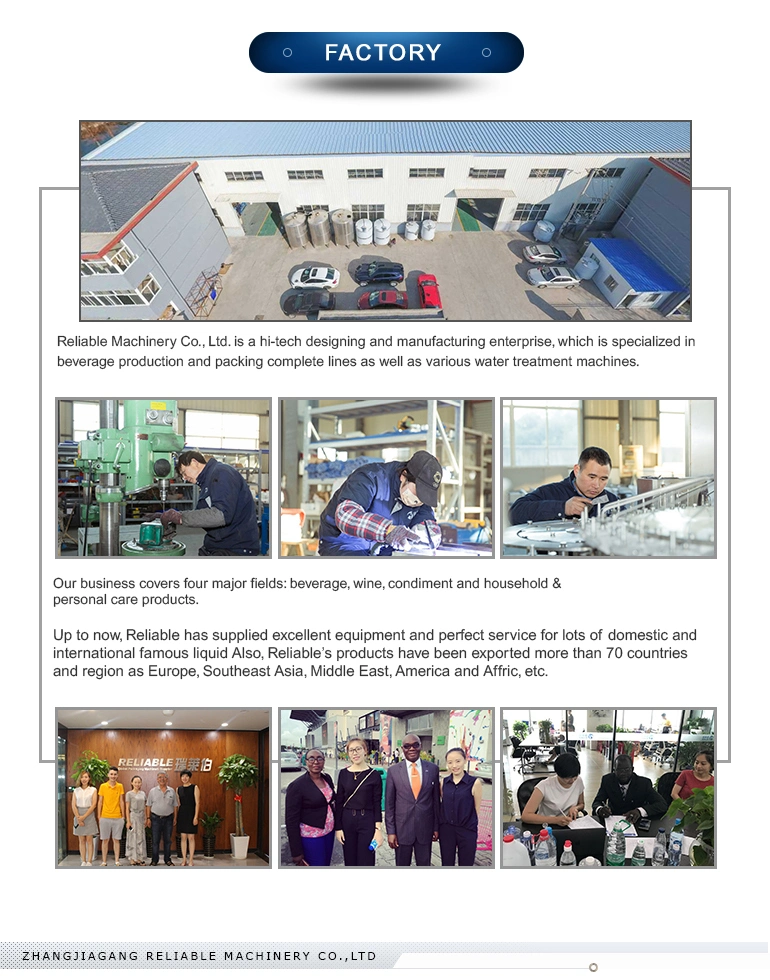 When you send inquiry, please also included the capacity and bottles shape and bottle volume you need to work on the machine, it is easy and accurately for us to recommend a right machine!

Welcome To Visit Zhangjiagang Reliable Machinery Co., Ltd!